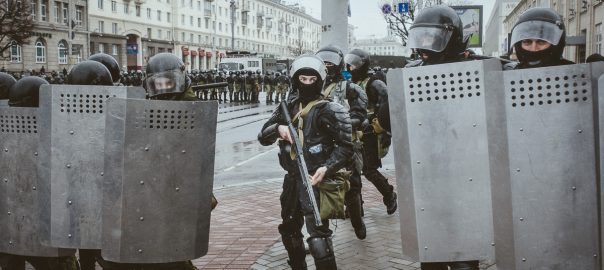 February and March have marked one of the most active protest period in the recent history of Belarus. Thousands of people were protesting not only against the infamous unemployment tax but against dictatorship of Lukashenko. People in the cities all around Belarus have organized their local gatherings and planning further steps in their struggle. Anarchists played an important role in those protests in several places. Reaction from the state followed – hundreds of people arrested and sentenced to short term arrests of 10-15 days, several are now prosecuted for planning riots.
During the evening we will have a presentation about the country, actual situation there and political struggle inside. After presentation there will be a chance to ask your own questions about the situation. We will be also gathering money for those affected by repressions – for fines, parcels and some money support in case people loose their jobs or don't get paid.
++++++++++++++++++++++
Februar und März diesen Jahres sind gekennzeichnet durch die größten Proteste in der jüngeren Geschichte Belarus. Tausende von Menschen protestierten nicht nur gegen das berüchtigte Arbeitslosen-Steuer-Gesetz sondern auch gegen die Diktatur unter Lukaschenko. In Städten überall in Belarus organisierten Menschen lokale Versammlungen und planen weitere Schritte. Anarchist*innen spielten eine wichtige Rolle in diesen Protesten in verschiedenen Orten. Der Staat reagierte darauf – hunderte von Menschen wurden festgenommen und zu kurzen Gefängnisstrafen von 10 bis 15 Tagen verurteilt, mehrere wurden angeklagt wegen der Planung von Riots.
An diesem Abend wird es einen Vortrag über Belarus geben, die aktuelle Situation und die politischen Kämpfe im Land. Nach dem Vortrag gibt es die Möglichkeit eigene Fragen zur Situation zu stellen. Wir möchten auch Geld sammeln für die Menschen betroffen von Repression – für Strafen, Pakete für die Inhaftierten und Unterstützung falls Menschen ihre Jobs verlieren oder kein Gehalt bekommen während der Zeit im Knast.