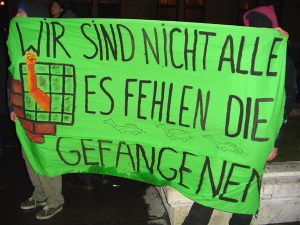 Den Gefangenen zeigen, dass sie nicht vergessen werden, ist ein wichtiger Teil unseres politischen Alltags und praktische Solidarität. Einmal im Monat organisieren wir daher die Schreibwerkstatt, die immer (oder meistens zumindest) am letzten Donnerstag im Monat stattfindet.
Am Festival wird es an allen drei Tagen ausreichend Gelegenheit geben, Post an Gefangene zu schreiben. Dafür richten wir eine spezielle Schreibecke ein, die sich im Infomaden befindet. Dort liegen Kuverts, Schreibmaterial, Stifte, Postkarten und Adressen von anarchistischen und rebellischen Gefangenen weltweit auf. Kommt vorbei, nehmt euch die Zeit und schreibt ein paar Zeilen an die Gefährt_innen im Knast. Wir kümmern uns ums Porto. Außerdem wird immer wer vor Ort sein, wenn ihr Fragen rund ums Briefe schreiben habt. Danke an dieser Stelle für den Support aus den Bundesländern.
Donnerstag: 17-19 Uhr
Freitag: 18-20 Uhr
Samstag 18-20 Uhr
+++++++++++++++++++++++++++++++
To show prisoners that they are not forgotten, is an important part of our political daily routine and practical solidarity. Once in a month we organize the Schreibwerkstatt, which always takes place every last Thursday.
At the festival you will find some good opportunities every day to write to prisoners. For that we install a special writing corner, which you can find at the infoshop. There will also be paper, envelopes, pencils, postcards and adresses of anarchist or insurgant prisoners from all over the world. Show up, take some time and write a few words to the comrades behind the bars. We will handle the costs for the postage. Besides that there will be always somebody on-site, if you have any questions about writing letters. Thanks to all who supports us from the federal states.
Thursday 5-7pm
Friday 6-8pm
Saturday 6-8pm