Noch ganz kurzfristig ist eine weitere Veranstaltung dazugekommen. Diese findet Freitag, 21. April von 13- 15 Uhr statt.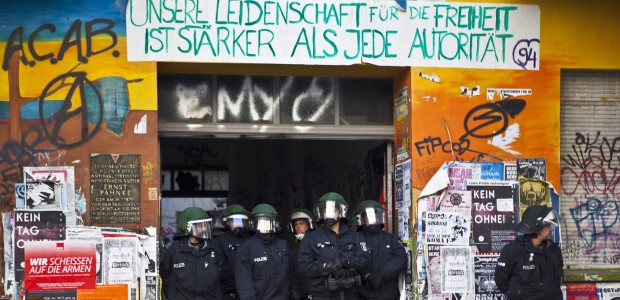 U-Haft in Berlin/Moabit, Rigaer94 & Gefahrengebiet
Im Zuge des andauernden Konflikts rund um das teilbesetzte Hausprojekt Rigaer94 im Friedrichhainer Nordkiez (Berlin) gab es letztes Jahr vermehrt Schikanen durch Berlins Innenminister Frank Henkel und seine Exekutive. Nach einer Razzia unter fadenscheinigen Gründen im Jänner 2016 und dem später ausgerufenen "Gefahrengebiet" für den Nordkiez, durch welches sich letztlich auch ein Großteil der Anwohner_innen mit der R94 solidarisierten, kam es im Juni zur (später fuer illegal erklärten) Räumung des Vereinslokales "Kadterschiede" im Erdgeschoss und einer wochenlangen Belagerungssituation im Haus durch Polizei und private Securities.
Die Szene mobilisierte – am 9. Juli kam es zu einer Grossdemonstration in Friedrichshain. Im Zuge der Demo wurden lt. polizeilichen Angaben 86 Menschen verhaftet. Mitten in den Berliner Wahlkampf geraten, wurden mehrere Personen in Folge unter phantastischen Begründungen einer angeblich bestehenden "Fluchtgefahr" zu monatelanger U-Haft verdonnert. Eine der Personen beschreibt in diesem Vortrag die U-Haft in Berlin Moabit, die Situation rund um die Verhaftung, den Wahlkampf und die kafkaesquen Urteile der Berliner Gerichte mit denen Aktivist_innen festgehalten und schliesslich verurteilt wurden.
Es ist gedacht, dass ihr im Vortrag direkt Fragen stellen koennt und euch aktiv an der Diskussion beteiligt.
+++++++++++++++++
Remand in Berlin/Moabit, Rigaer94 & 'Gefahrengebiet'

In the light of the continuous conflict around the half-sqatted housing project Rigaer94, located in the northern part (Nordkiez) of Friedrichshain (Berlin), there were increasing spites by Berlin's minister of the interior Frank Henkel and his executive powers. After a house raid, which has legitimated by flimsy reasons in january 2016 and the later enacted 'Gefahrengebiet' ('Territory of Danger') for the Nordkiez, which was the reason for the solidarity for R94 by most of the people in the neighborhood, the collective bar "Kadterschmiede" on the ground floor, was evicted (later the eviction was declared as illegal) and occupied for weeks by the police and private securities, in June.
The movement mobilised – on 9th of July a big demonstration took place in Friedrichshain. The cops were talking about 86 people being arrested at that demonstration. At this point, Berlin was in the middle of election campaign, a bunch of people were taken in remand for months, the reason was a abstruse story about "danger of flight" after penal code. One of them will describe his remand in custody, the situation of the arrest, the election campaign and the kafkaesque sentences of the Berlin court, which was the basis for imprisonment and sentencing those activists in the end.
It's intended that you can ask questions immediately during the speech and participate in the discussion.